Podcast: Play in new window | Download
Subscribe: RSS
The Gree are back, the march to Makeb begins, and the Hutts begin offering reward points for the Cartel Market! All this and more as we discuss what's in Game Update 1.7.2.
1. Introduction
Hyp learns that talking back to a Sith may sometimes end badly.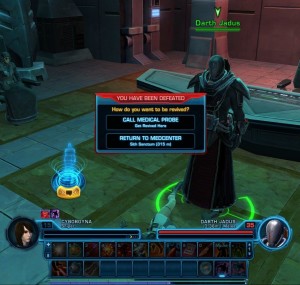 Baldy models the Cartel Luxury Skiff, one of the most desirable speeders to have been added to the Cartel Market's Packs.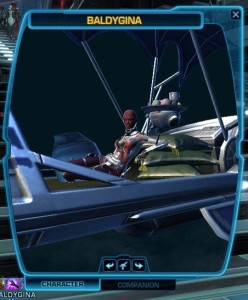 Baldy certainly isn't getting any prettier.

2. Trivia Question
Congratulations to this week's winner, Tony T!
3. The Holofeed
Game Update 1.7.2 was released during Tuesday's maintenance.
It includes the introduction of the Contraband Resale Corporation, a Hutt-controlled organisation with which players can earn reputation. It's effectively reward points for buying Contraband Packs (introduced with Shipment Two) from the Cartel Market. Dulfy has provided a guide that tells you all you need to know!
Some players' concerns about the new reputation were addressed by Eric Musco (Community Manager). He also said that the Certificates which (in addition to reputation and credits) are used to purchase items from the reputation vendors are currently bind-on-pickup, and may be changed to bind-to-legacy.
The armor from the character creation screen for the Bounty Hunter will be made available in Game Update 1.7.2; the final class, the Trooper, will have their armor added after the launch of the expansion.
The Gold Scalene armor was removed from the Cartel Market in response to community feedback in Game Update 1.7.2. In addition, our companions can now equip all reputation armor, and the level requirement of that armor (which is all bind-to-legacy) has been reduced from 45 to 10.
The Gree have returned, and there is now a new speeder available, the Blue Sphere Transport Enclosure. While it is currently bind-on-pickup, it will be changed to be bind-to-legacy in Game Update 1.7.3.
The March to Makeb is a promotion to prepare players for the expansion. It includes four double XP weekends. Each weekend starts Friday 1pm CDT (Sat 5am AEDT, Fri 6pm GMT) and runs through to Monday 2am CDT (Mon 6pm AEDT, Mon 7am GMT). Note that it only affects XP (not Valor or reputation), all XP boosts apply to the doubled XP, but rested XP is excluded.

March 15-18
March 22-25
March 29-April 1
April 5-8

We believe that this means that Game Update 2.0 may be released on Tuesday April 9th, with early access to Makeb beginning shortly thereafter.
There was a SWTOR panel at SXSW Interactive, which can be found on YouTube.
Phillip Holmes, SWTOR's Senior Manager of Security, provided us with all we could possibly want to know about the upcoming security changes, most notably the removal of logging in using one's email address.
4. Community
A useful resource for those interested in both the normal and heroic space missions is Nefash's Pilot Training School.
If you're into PvP, Jacob Hausman's Rated Warzone Guide is worth reading; the warzone strategies are good to know even if you're not in a rated group.
Darth Kenji has resurrected his Lessons from the Holocron series with a new installment, "Warlords and Gangsters", which reveals some surprising revelations about the Hutts!
5. Force Feedback
We discuss tweets from @HamSammich509 (Ham Sammich), @rbleamon (Ray Leamon), @lesman72 (Les), @Eskatun, @GregCarter78 (not of Mars), @TheTurg (Terg), @terencemyers, @Dimbo56, @bytorsnowdog (Snowy), @grimrok (Grim), @voyak, @thecandalore (Can'dalore) and @Darklighter159 (Dillon Cotter).
Here we have Dillon's "missing granny":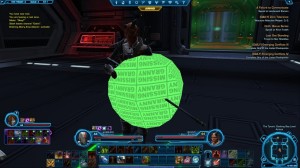 6. Outro
Thanks to Redna (@RystoJ) and Hyp (@Hypknotoad) for joining us this week.
Information about our guilds on The Harbinger, Ootini Knights (Republic) and Ootini Rage (Empire), can be found here.
You can email questions and comments about the show to ootinicast@gmail.com. Follow us on Twitter via @OotiniCast. Check out our website, ootinicast.com, which has links to our presence on Google+ and Facebook. We are a proud member of the TOR Syndicate! You can subscribe to us on iTunes and Zune, and listen to us on Stitcher and Radio Paragon.