Podcast: Play in new window | Download
Subscribe: RSS
After discussing some SWTOR news, we dive into Redna's second theorycrafting discussion, this time covering how to balance the defensive stats utilised by the three tanking ACs.
1. Introduction
Hyp shares a couple of memorable pictures of his characters:
Teo discovered that the PTS Character Copy has been updated to support having more than 12 characters on a server: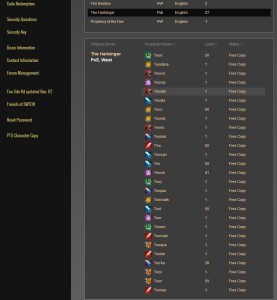 2. Trivia Question
The original trilogy boasts some great old-time actors, including Alec Guinness and Peter Cushing among them.  Using IMDB, answer the following two questions:
What actor with a speaking role of the original trilogy has the earliest acting credit?

What actor with a speaking role of the original trilogy has the most acting credits?
I hope I've done enough research to properly identify the correct answers, but will of course check on any new answers that come in. If you are interested in being entered in the random drawing for a Tauntaun Fawn code, please send your answer to ootinicast@gmail.com.
3. The Holofeed
Extra content and free-to-play contributed $185 million, up 50% led by FIFA and Madden Ultimate Team and Star Wars: The Old Republic. These revenues relate to businesses on PC or consoles, where consumers pay for additional digital content—including virtual characters, map packs and micro-transactions associated with browser based games or MMOs—like Star Wars. As a reminder, on November 15 we launched our free-to-play option for Star Wars: The Old Republic. Very early indications have been positive and we are pleased with the initial results but it is too early to know how successful this will be in the long term.
…
Subscriptions, advertising, and other digital revenue contributed $79 million, growing 18% over the same period last year. The current year includes a full quarter of Star Wars subscriptions, but it was offset by a decline in other licensing digital revenue.
Patch 1.6.3a was released on Friday morning, that resolved the newly-introduced bug that was preventing Taral V from being completed.
A player prompted BioWare to update the Patch 1.6.3 patch notes to include the fact that it fixed the bug which left the glow from a companion's lightsaber after that companion was dismissed.
BioWare confirmed that purchasing account-wide cargo bays and inventory slots will be immediately applied to all existing and new characters, ignoring any level restriction imposed if purchasing them with credits.
Many players have discovered that they did not receive their monthly grant of Cartel Coins. BioWare acknowledges that the issue is being investigated, and all affected players should receive their Cartel Coins towards the end of next week (6-8 February).
Across several posts (1, 2, 3), BioWare attempted to clarify how the "daily" missions for the heroic (50+) space missions work. The intention appears to be that a new mission (one of six) will become available on each day of the week (except Monday) at 6am CST, but won't be retained in a character's mission log when the next day's mission becomes available. The current schedule is as follows:

Tuesday—Far Cradle Strike (Imp)/Regnant Station (Rep)
Wednesday—Kabal Station Defense (Imp)/Ardis Outpost Fortification (Rep)
Thursday—Kanz Minefield (Imp)/New Covar Ice Field (Rep)
Friday—Duma Strike (Imp)/Baros Ambush (Rep)
Saturday—Lorta Escort (Imp)/Hypori Escort (Rep)
Sunday—Cha Raaba Assault (Imp)/Thanium Disruption (Rep)
Sunday—Operation Foe Smasher (Imp) Operation Clean Sweep (Rep)

Damion Schubert gave some insight into the amount of effort required to add non-human playable species.
4. Force Feedback
Chong's second article Metal Gear: The Old Republic is now available, revealing why so many of the voices heard in SWTOR are familiar to MGS fans.
For pet collectors, Dulfy's SWTOR pets guide is exactly what you need!
We discuss tweets from @ThePiousPunk, @JediKrackr, @EmpireDivider (Chong), @rbleamon, @DarthKenji, @GregCarter78, @terrencemyers, @masterbearjedi, @Voyak, @weihanthekidsun, @Evarwyn, @JaeOnasi, @RadioParagon and @Telenroidswtor (Telenroid), a comment on episode 62 from Deavante, and Facebook comments from Eli Ejb and Mark E.
Voyak found us the breadcrumb mission that starts the chain that takes players through the Boarding Party and The Foundry Flashpoints, picked up from the R2 unit as shown on the map (located at 4577, 4692) and screenshot he provided:
The discussion started by Chill was based on his worn out keyboard: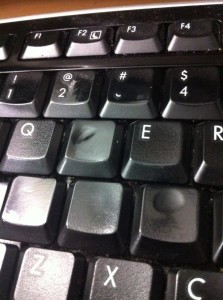 We'd like to shout out to Telenroid's guild "Blasters and Lightsabers", who are Republic-side on the west coast PvP server, The Bastion. They're always open to more fun, friendly members on the server. Anyone in the guild can invite. They're in the process of filling out extra raid groups, finding it hardest to find healers so far though. They've got Explosive Conflict hard mode on farm, and are gearing up to knock out Terror From Beyond (so far just 1 boss in).
There's also the guild KRATH, on the Empire side of the Ebon Hawk server. They're all about light roleplaying, warzones and community. If you're interested, contact "Hydras". You can find them on Twitter via @krathcult.
Our guildmate Kuze emailed in the following sceenshot of the UI he uses for healing our raid group: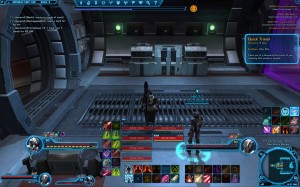 He also provided the following showing that not all the water in SWTOR is ankle deep!
Finally, Kuze also showed that the class buffs do not affect a character's main stat any more than it does Power:
5. Sarlacc Digest
Redna led our discussion this week, in which we covered the stats affecting damage mitigation and avoidance. The following are the graphs and table that Redna talks to: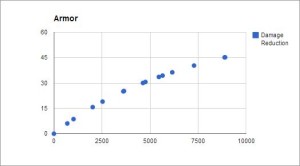 6. Outro
Thanks to Redna (@RystoJ) and Hyp (@Hypknotoad) for joining us this week. You can email questions and comments about the show to ootinicast@gmail.com. Follow us on Twitter via @OotiniCast. Check out our website, ootinicast.com, which has links to our presence on Google+ and Facebook. We are a proud member of the TOR Syndicate! You can subscribe to us on iTunes and Zune, and listen to us on Stitcher and Radio Paragon.