Podcast: Play in new window | Download
Subscribe: RSS
Hyp joins Chill and Teo to discuss the aftermath of the character transfers, and revel in being on a heavily-populated server at last! We also talk about the latest BioWare hints that SWTOR may one day go free-to-play.
1. Introduction
2. Question to the panel
We discuss our experiences in transferring from Space Slug to The Harbinger. Hyp expressed his sadness at leaving our old server through art:

All SWTOR servers have now been allocated in this first (and possibly final) round of free character transfers. You can see how things ended up in this chart (click on the image to see the full-sized version):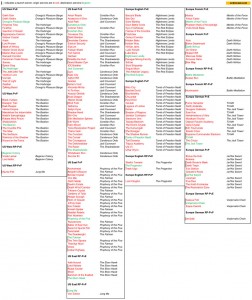 During the discussion, we mention that after your characters are transferred to their destination server, your legacy name has to be chosen again. You can choose any name, either the one you had on your old server (if available) or a new one. However, until you do so, your legacy unlocks will not be accessible. So don't hold off choosing a new legacy name! After you do enter your legacy name, you'll have to log out; the next time you log in to any character, all your legacy unlocks will be available.
3. Trivia question
This week's challenge: How was Star Wars used in real life by certain official members of Britain to thumb their nose at a foreign emissary they didn't like?
If you are interested in being entered in the random drawing for a Tauntaun Fawn code, please send your answer to ootinicast@gmail.com.
4. The Holofeed
Patch 1.2.7b was deployed during Tuesday's regular maintenance. It appears to be server-side only, as it simply lowers the number of characters to allow in a given instance of each faction's Fleet (we believe from 300 down to 250).
We go through most of the questions from the Community Q&A: June 15th, 2012.
5. Force Feedback
We discuss tweets from @IzaakTheMad (Izzy), @RippTheDeceiver (Ripp), @Dimbo, @thehatfield (Hatfield), @weihanthekidsun (Weihan Sun), @IRBountyHunter, @JT_HoloNet (Jason Taylor), @lesman72 (Les), @sterlinglee38 (Sterling) and @Rrubb (Rub). A common theme was commiserating about the departure from our former home, the mighty Space Slug server!
Sizzlor emailed in to ask us about the usefulness of Courting gifts when trying to increase your companions' affection. In answering his question, we reference Dulfy's most excellent Companion Gifts and Crafting bonuses for 1.2 guide.
Grim tells us that his computer has struggled to run SWTOR reliably since the move to the Harbinger. We're working with Grim to help diagnose what's going wrong, to hopefully get him back into the game!
Ripp tested the theory that if you delete all your toons on a server, your legacy there is preserved. After deleting all his characters, he created a new toon, and confirmed that it retained the legacy XP and unlocks that had been attained with the deleted (or transferred) characters.
6. The Sarlacc Digest
BioWare have announced that they will be offering a free trial that allows players to get to level 15 before there is any need to pay for the game or subscribe. We anticipate that this will be delivered as part of Game Update 1.3.
Lead designer Emmanuel Lusinchi, in an interview that will be published in issue 124 of games™ magazine (to be released on 5 July), said the following in an excerpt that was subsequently removed from the magazine's site:
"The MMO market is very dynamic and we need to be dynamic as well," he says. "Unless people are happy with what they have, they are constantly demanding updates, new modes and situations. So we are looking at free-to-play but I can't tell you in much detail. We have to be flexible and adapt to what is going on."
Adding fuel to the free-to-play fire, EA's Frank Gibeau (President of EA Labels, the division which includes the BioWare "Label"), in an interview with GamesIndustry International, also left the door wide open for a free-to-play conversion at some point. The sense from the interview was that this wouldn't be any time soon; instead, they are going to see how the free trial goes as an initial foray into the free-to-play space.
Finally, James Ohlen (SWTOR's Game Director) said in an interview with PC Gamer that:
"I think it [free-to-play] can work for different games. It really depends on how you go with your game. Games that have been built to be free-to-play from the start definitely work out. Now, there have been games that weren't free to play from the start and transferred over to becoming free to play that have worked as well. But it's definitely not something that's super easy to do."
Our conclusion is that they're actively thinking about going free-to-play, but at best it's in the conceptual stage. Converting a subscription-based MMO is a non-trivial exercise, and it would probably takes many months of development effort to achieve. If it happens at all, we don't think it will be this year!
7. Outro
Thanks to Hyp (@Hypknotoad) for joining us this week.
You can email questions and comments about the show to ootinicast@gmail.com. Follow us on Twitter via @OotiniCast. Check out our website, ootinicast.com, which has links to our presence on Google+ and Facebook. We are a proud member of the TOR Syndicate! Subscribe to us on iTunes, and watch for us in your Bind on Equip feed.