Podcast: Play in new window | Download
Subscribe: RSS
Game Update 4.3 is on the PTS, bringing The Odessan Proving Ground, an 8v8 warzone, and the Rishi Cove Arena. There's also the new Gameplay Focus Area feature which removes the need for separate PvE and PvP servers. Lots to talk about this week as we get into the details!
1. Introduction
Here's the very special achievement earned by Jessie and Blachloch when surviving a particularly onerous PUG'd Flashpoint:
Chill provided this screenshot to show what an uncompletable, bugged mission looked like: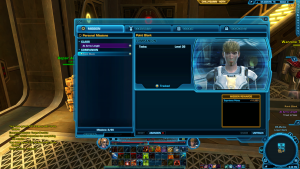 Chill and Jessie have been nominated for awards in the Star Wars Podcast Awards. Go here to find out more.
2. Tip of the week
Congratulations to this week's winner, Knite! Thanks to Garin, B'Mal Suj, Vanaheimr, BornToEatBacon and Iggnacio for entering.
Please send your tips to ootinicast@gmail.com by next Tuesday for a chance to win a Taunfawn or M8-3R droid code, courtesy of BioWare, and an OotiniCast-provided Cartel Market pack from the latest shipment.
3. Holofeed
4. Community
Thanks to our latest Ootini Patrons: Todd P, Mason R and Tinkywinky!
You can find the details of STI's Charity Dueling Tournament 2016 here.
Djredd continues the Ootini Events fun into March, this time on the Empire side! To find out more, see his post on our forums.
5. The Academy
This week Swtorista tells us about legacy unlocks: what they are, how they work, and what are the best value for your hard-earned credits and/or Cartel Coins.
6. Force Feedback
Alex of The GeeK Podcast has brought his Trooper to join our own Ootini Knights on The Harbinger, celebrating his arrival with Jawas!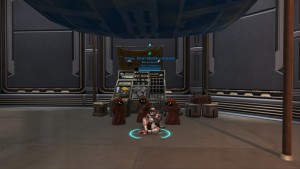 Congratulations also to Alex for winning the race to the Makeb Datacron in the Ootini Cron event: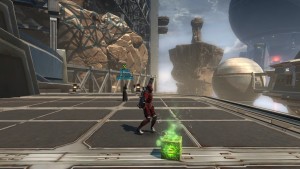 Chinn'ook suggests we take a look at the Star Wars Humble Bundle II. Teo heartily endorses this!
If you ever need to move SWTOR to a new computer, our guide could help.
7. Outro
On the show this week were Chill (@BrandonLStarr, twitch.tv/chillswtor), Teo (@jasonetheridge), Dekion (@therealDekion) and Jessie (@UnholyAlliances, UnholyAlliance.org, Passionately Casual podcast).
Information about our guilds on The Harbinger, Ootini Knights (Republic) and Ootini Rage (Empire), can be found here.
You can email questions and comments about the show to ootinicast@gmail.com. Follow us on Twitter via @OotiniCast. Check out our website, ootinicast.com, which has links to our presence on Google+ and Facebook. You can subscribe to us on iTunes, and listen to us on Stitcher and Spreaker. We record the show live every Wednesday at 4:30pm Pacific, goto ootinicast.com/live to find out how to join in!