Podcast: Play in new window | Download
Subscribe: RSS
We discuss the news, BioWare's developer roundtable and our continuing adventures in Knights of the Fallen Empire!
1. Introduction
The OotiniCast SWTOR Meme Contest continues! Goto ootinicast.com/memecontest2015 to find out more, and click #swtormemecontest to see all the entries. Here are two that Chill created:
The two best entries from week 1:
2. Tip of the week
Congratulations to this week's winner, Alex! Thanks to Bahumet/Locke, AmenRe, Thunder, Sukai, Greg, Pandoren, Knite and Kranitoko for entering.
Please send your tips to ootinicast@gmail.com by next Tuesday for a chance to win a Taunfawn or M8-3R droid code, courtesy of BioWare, and an OotiniCast-provided Cartel Market pack from the latest shipment.
3. Holofeed
4. Community
Thanks to Kevin for his donation, and to our latest Ootini Patrons, Mathew and Josh!
Bant the Fat and Pink's Optimal Stats for all 24 Disciplines to Maximise Average DPS, DtPS or HPS in PvE is an excellent resource for gearing your characters.
The participants in the Galactic Gamer's Coalition has created its own ExtraLife team!
5. Force Feedback
Charlie observes that a character can freeze very oddly when they die:
He also appears to have seen two instances of Hemdil Tre!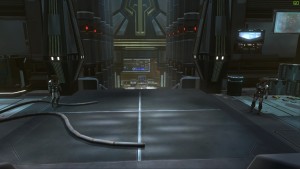 MaterRex sent us this cartoon which may be one of the rare examples of Star Wars humour that is actually funny (originally tweeted by @killer_kitsch):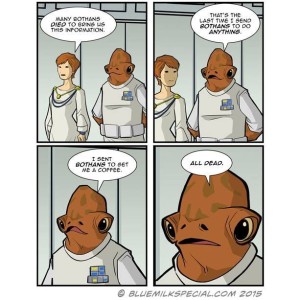 6. Outro
On the show this week were Chill (@BrandonLStarr, twitch.tv/chillswtor), Teo (@jasonetheridge), Turg (@TheTurg) and Swtorista (@swtorista, swtorista.com, swtorstrongholds.com).
Information about our guilds on The Harbinger, Ootini Knights (Republic) and Ootini Rage (Empire), can be found here.
You can email questions and comments about the show to ootinicast@gmail.com. Follow us on Twitter via @OotiniCast. Check out our website, ootinicast.com, which has links to our presence on Google+ and Facebook. You can subscribe to us on iTunes, and listen to us on Stitcher and Spreaker. We record the show live every Wednesday at 4:30pm Pacific, goto ootinicast.com/live to find out how to join in!