Podcast: Play in new window | Download
Subscribe: RSS
Three guests join Chill and Teo this week to discuss the latest news, including the healing changes in Game Update 3.3, the Togruta and Yavin 4 Stronghold livestream, and much more.
1. Introduction
Teo and Aaree have embarked on the MCR-99 Droid Reconnaissance mission series.
You can see Chill's UI here. He uses a Razer Nostromo: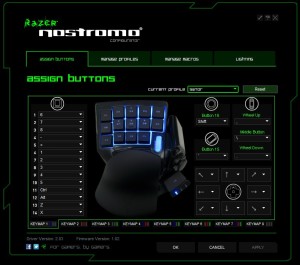 The action bars that mirror this setup in his UI are shown below:

2. Tip of the week
Congratulations to this week's winner, Death Star Down Under! Thanks to Azzally, Joe and Niero for entering.
Please send your tips to ootinicast@gmail.com by next Tuesday for a chance to win a Taunfawn or M8-R3 droid code, courtesy of BioWare, and an OotiniCast-provided Cartel Market pack from the latest shipment.
3. Holofeed
The Nar Shaddaa Nightlife event is live, running until 25 August 2015.
The latest pack in Shipment 7, the Mid Rim Explorer's Pack (previews from Dulfy and TORC), is now available. Each Hypercrate includes a single revamped Platinum Pack.
SWTOR has upgraded its security key system to allow the use of any OAuth-compatible authenticator app, including Google Authenticator and WinAuth. They have also upgraded the SWTOR mobile security key, though it may not install (due to an apparent incompatibility issue) on the latest Android devices.
The Yavin 4 Stronghold and Togruta livestream can be viewed on Twitch (part 1 and part 2) or on YouTube. There are summaries for what was covered on Dulfy and TORC, and Swtorista has a detailed preview of the Yavin 4 Stronghold.
Game Update 3.3 is now on the PTS. Various changes are being considered, including adding 500 and 1000 Warzone Commendation legacy-transferrable lockboxs, increasing the PvP daily and weekly rewards (to make up for the removal of Ranked Warzone Commendations), and introducing the increased Warzone Commendation cap early in Game Update 3.2.2.
Those doing the PvP weapon dance be warned: all PvP weapons will become bound to you during the Game Update 3.3. maintenance, preventing them from being exchanged for Warzone Commendations.
BioWare is providing some inducements to convince players to come together on the PTS to try out the PvP changes in regular warzones on Thursday, Friday and Saturday this week.
A member of the SWTOR security team gives us some insight into their ongoing fight against credit sellers and other nefarious criminals. Note that BioWare is aware of the new spammer technique that utilises emotes!
Star Wars Uprising is a new RPG for mobile platforms.
4. Community
Thanks to our latest Ootini Patrons: Matthew, Matt and Aaron! Also thanks to our honorary Ootini Patron, Grim, for his recurring donation.
Check out the Kephess Cast from TOR Community!
5. Force Feedback
6. Outro
On the show this week were Chill (@BrandonLStarr, twitch.tv/chillswtor), Teo (@jasonetheridge), Mae (@Maebeebuzz, MaeBeeBuzz.weebly.com, twitch.tv/maebeebuzz), Xam Xam (@Rach_Games, xamxamsays.com, YouTube) and Jeremy (@Darksplat).
Information about our guilds on The Harbinger, Ootini Knights (Republic) and Ootini Rage (Empire), can be found here.
You can email questions and comments about the show to ootinicast@gmail.com. Follow us on Twitter via @OotiniCast. Check out our website, ootinicast.com, which has links to our presence on Google+ and Facebook. You can subscribe to us on iTunes, and listen to us on Stitcher and Spreaker. We record the show live every Wednesday at 4:30pm Pacific, goto ootinicast.com/live to find out how to join in!