Podcast: Play in new window | Download
Subscribe: RSS
We talk through the changes to PvP announced for Game Update 3.3, and then our guest Ivilon provides some fascinating insight into SWTOR's music.
1. Introduction
Here is the list of Teo's toons on The Harbinger, showing their name, hours played, Advanced Class and level: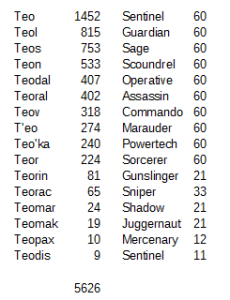 He has played, at the time this show was recorded, 5626 hours.
2. Tip of the week
Congratulations to this week's winner, Jason W! Thanks to GasGuy and Sith Lord Korv for entering.
GasGuy provided this screenshot of Ziost, also known as the gray lands!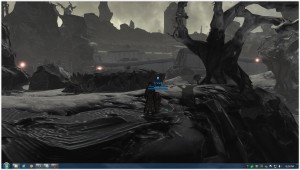 Please send your tips to ootinicast@gmail.com by next Tuesday for a chance to win a Taunfawn or M8-R3 droid code, courtesy of BioWare, and an OotiniCast-provided Cartel Market pack from the latest shipment.
3. Holofeed
The Nar Shaddaa Nighlife event will return on 9 June. It will remain for 11 weeks, finishing on 25 August.
Windows 10 is coming on 29 July. Those running its preview build have confirmed that SWTOR runs without issues. We recommend signing up for the upgrade!
Alex Modny is asking for ideas for making Strike Fighters better in GSF.
There are big changes coming to PvP in Game Update 3.3, which is planned to be on the PTS on Thursday 4 June. The Bad Feeling Podcast had an exclusive interview with Alex Modny and Eric Musco in which the news of the changes was broken (you can read a summary of the interview here). Some additional information:

Modification costs: 168 Mods & Enhancements = 150 Warzone comms, 174 Mods = 400 Warzone comms, 174 Enhancements = 800 Warzone comms
Ranked Warzone Comms will be converted to Warzone Comms at a 1:1 ratio
Future Ranked PvP rewards may be Bind-on-Legacy
The solo queue for Ranked PvP will require that the gear being worn when queuing has (unbolstered) maximum Expertise (2018).

This fan-made video stitches together SWTOR's original CGI trailers (created by Blur Studio) into a seamless narrative.
4. Community
Thanks to our latest Ootini Patron, Rob Weller!
You can listen to the Jedi Covenant Guild Summit #4 and/or read their excellent summaries, on TOR Community.
5. Force Feedback
Pallais sent us this picture of Teo's greatest fan: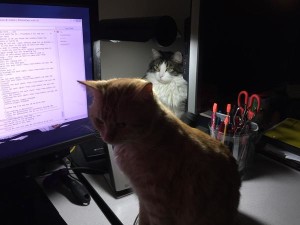 This awesome artwork was sent in by @f1yingpineapp1e. You can visit his Deviant Art page here.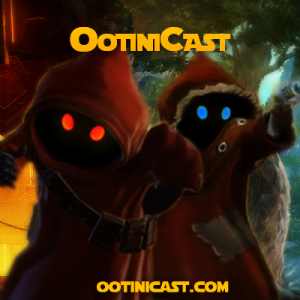 6. Sarlacc Digest
Our guest Ivilon provides some fascinating insight into the music used for SWTOR, including how it has changed since launch and with each successive expansion and update.
7. Outro
On the show this week were Chill (@BrandonLStarr, twitch.tv/chillswtor), Teo (@jasonetheridge) and Ivilon (@percomposer, stephenridley.com).
Information about our guilds on The Harbinger, Ootini Knights (Republic) and Ootini Rage (Empire), can be found here.
You can email questions and comments about the show to ootinicast@gmail.com. Follow us on Twitter via @OotiniCast. Check out our website, ootinicast.com, which has links to our presence on Google+ and Facebook. You can subscribe to us on iTunes, and listen to us on Stitcher and Spreaker. We record the show live every Wednesday at 4:30pm Pacific, goto ootinicast.com/live to find out how to join in!