Podcast: Play in new window | Download
Subscribe: RSS
Lots to cover this week with BioWare's livestream about Game Update 3.2: Rise of the Emperor, which includes the Outfit Designer, the planet Ziost, along with a few very nice quality of life fixes.
1. Introduction
2. Tip of the week
Congratulations to this week's winner, Ivilon! Thanks to Sandnuu for entering.
Please send your tips to ootinicast@gmail.com by next Tuesday for a chance to win a Taunfawn or M8-R3 droid code, courtesy of BioWare, and an OotiniCast-provided Cartel Market pack from the latest shipment.
3. Holofeed
4. Community
We recommend that you check out TORCommunity's KickStarter project, which is seeking funding to create the functionality to replace and surpass what was offered by the now defunct Torhead and AskMrRobot. You can find out more about how they're doing in this update.
Our Leaderboards tool has been updated to show graphs for the reward tiers announced for Ranked PvP Season 4.
Thanks to Sevek of Begeren Colony for his fourth "Ootini Rage" sound clip which we're using this week. He calls it "Droid".
If you're interested in being a guest on the show, please email ootinicast@gmail.com. Don't be shy!
5. Force Feedback
Here's our guildmate Spencer showcasing our Ootini Knights shirt which (due to reasons) was late in arriving: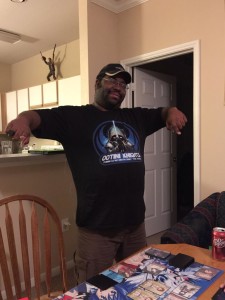 The thread on the official forums found by Megan that describes how to copy your Interface Editor-created UIs from live onto the PTS can be found here.
Cole notes that it appears that there's a crossguard lightsaber already in SWTOR! Well, kinda…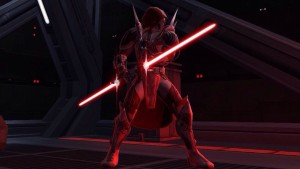 In Freedious's own words: "The RNGree gods went full on purple parallel last night granting me the Helix Hyperpod by 1 point." Looks great!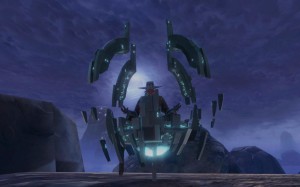 6. Outro
On the show this week were Chill (@BrandonLStarr, twitch.tv/chillswtor), Teo (@jasonetheridge), Alex (@MixUpPixels, geek-podcast.com) and Olib (@OlibGaming, swtornetwork.com).
Information about our guilds on The Harbinger, Ootini Knights (Republic) and Ootini Rage (Empire), can be found here.
You can email questions and comments about the show to ootinicast@gmail.com. Follow us on Twitter via @OotiniCast. Check out our website, ootinicast.com, which has links to our presence on Google+ and Facebook. You can subscribe to us on iTunes, and listen to us on Stitcher and Spreaker. We record the show live every Wednesday at 4:30pm Pacific, goto ootinicast.com/live to find out how to join in!