Podcast: Play in new window | Download
Subscribe: RSS
Lots of news from the Community Cantina that was held at PAX South last week! Then in our discussion, we go through some community opinions on what BioWare should do in response to "that" exploit.
1. Introduction
2. Tip of the week
Congratulations to this week's winner, Ricky! Thanks to Josh, Bulaklak, Sukai, Chong and Dephine for entering.
Chong believes that having one of these in your Stronghold:
… will fund your addiction to this:
Please send your tips to ootinicast@gmail.com by next Wednesday for a chance to win a Taunfawn or M8-R3 droid code, courtesy of BioWare, and an OotiniCast-provided Cartel Market pack from the latest shipment.
3. Holofeed
Star Wars: The Old Republic also contributed to the segment with the expansion "Shadow of Revan" attracting many more people into the game with this epic new storyline. Star Wars fans remain deeply engaged in the Old Republic universe, and we're more excited to see how that will build as we get closer to the launch of the Star Wars movie this December.
A Community Cantina was held at PAX South on Friday evening. Larry Everett was in attendance, and wrote up his impressions. There is also Dulfy's summary which includes the flashdrive assets. You can watch the Q&A here. There was also a reading of Bruce Maclean's next Producer's Letter, due to be published in a couple of weeks, which you can read below:
Hi everyone,

For many, the start of the year is a time for setting goals and planning for the future. This is something we've been focusing on here at BioWare Austin. 2014 was an amazing year for the team. We delivered two expansions, an overhaul to the class system, and regular story updates through flashpoints. I'm proud of the what the team has accomplished, and we not have been able to do it without your support. Thank you.

I'm excited about what we have in store for you in 2015. Some of you might remember before launch, we talked about the four pillars of RPGs: combat, progression, exploration, and story. SWTOR is an MMO, but it's also a BioWare game. Three years ago we set out to deliver a product that delivered the best of two worlds: the immersive story experience of a single player RPG and the vast array of systems and social connections from an online multiplayer game. Since launch we mainly focused on the latter, adding galactic stronghold, achievements, legacy perks, reputation tracks, and galactic starfighter. But with the success of the Shadow of Revan expansion, we think it's time to return to our roots and what truly makes our game unique: story.

Shadow of Revan was just the beginning. In 2015, we are committed to bring you more character driven adventures in the Old Republic universe. You're going to see a unified story with themes that unite our eight classes. Everyone is a veteran from the galactic civil war with a complicated past and uncertain future. You'll see a greater emphasis on your character's personal story and on the choices that you make. I don't want to say too much more since we're in the midst of development, but what we have planned really gets back to the Star Wars fantasy at the heart of our game.

Our plan is to deliver two major updates with this new story direction later this year. One in the summer and other by the end of the year. "But what's happening in the meantime?" you might ask. Below is a list of what you can expect in the first half of the year. As always, please keep in mind that all of this is subject to change. We reserve the right to adjust our plans if we feel it is necessary.

On February 10th, we'll have game update 3.1 which includes the following things:

1. Hardmode flashpoint Blood Hunt.
2. Hardmode flashpoint Battle of Rishi.
3. As well as the start of PvP season four.

For April 28th, which is our current tentative date for game update 3.2, we have a new system called the outfit designer. Stay tuned for a blog of this awesome new feature coming soon!

A new story arc on the planet Ziost. This story arc takes us to the Imperial homeworld of Ziost, where we answer many of the questions posed by the cliffhanger at the end of Shadow of Revan.

It also have the end of PvP season four and the start of season five.

Beyond that, we would like to, this year, do a new stronghold. In addition to that also add a new playable race: the Togruta. I kind of let the cat out of the bag on this one last year that the New York cantina, but now it's in writing or on the interwebs via my voice.

This still more to be revealed for SWTOR this year. This is just the start. When we are further along in development, we'll release more information that dives into the nitty gritty details of these new features.

I want to thank you, our galactic heroes, for continuing to support us. It's your feedback and enthusiasm that makes SWTOR a better game and drives us to be better. All of our hard work is for you. May the Force be with you

Bruce Maclean
4. Community
Thanks to Squirr'al for this most generous donation!
The Reddit user Dentface has been unearthing concept art for SWTOR. So far, he's found the work of Clint G. Young, Nick Hiatt, Ryan Dening and Zach Hall.
The new site huttspawn.com is looking for some help.
Our Ootini Knights guildmate and occasional guest Turg (@TheTurg) is starting his own Ootini-branded podcast focusing on PvP. Initially they will be focusing on a different Advanced Class each week, starting with the Guardian. Vote in this poll for the next Advanced Class that they will cover.
5. Force Feedback
Galvanized/Deathhammer is experiencing a very strange bug with his companion Guss Tuno: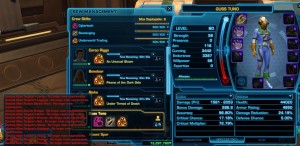 Tennya found this NPC in a hard to get to location in the Cartel Bazaar: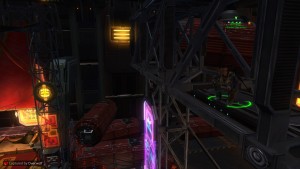 Turg has observed that the Scoundrel DPS bracers appear to be missing their texture:
6. Sarlacc Digest
We go through some opinions from our listeners on how BioWare should handle the recent Ravagers exploit. Thanks to Haelyn, thvbh, Ameel, Pallais, Giantgina and Exadon for their contributions.
7. Outro
On the show this week were Chill (@BrandonLStarr, twitch.tv/chillswtor), Teo (@jasonetheridge), Redna (@R3DN4, twitch.tv/r3dn4) and Kranitoko (@Kranitoko, youtube.com/KranitokoGames, twitch.tv/kranitoko).
Information about our guilds on The Harbinger, Ootini Knights (Republic) and Ootini Rage (Empire), can be found here.
You can email questions and comments about the show to ootinicast@gmail.com. Follow us on Twitter via @OotiniCast. Check out our website, ootinicast.com, which has links to our presence on Google+ and Facebook. You can subscribe to us on iTunes, and listen to us on Stitcher and Spreaker. We record the show live every Wednesday at 4:30pm Pacific, goto ootinicast.com/live to find out how to join in!