Podcast: Play in new window | Download
Subscribe: RSS
Our favourite industrialist Bill joins us this week to discuss the economic impact of the slot machine and its subsequent nerf, along with the other news and Werit's Q&A.
1. Introduction
If you've had any experience with Dolby Axon, a new player in the space dominated by Mumble, Ventrilo and TeamSpeak, please let us know!
2. Tip of the week
Congratulations to this week's winner, Dakit of the Defenders of the Republic guild on The Harbinger! Thanks to ndbbm and Flox for entering.
Please send your tips to ootinicast@gmail.com by next Wednesday for a chance to win a Taunfawn or M8-R3 droid code, courtesy of BioWare, and an OotiniCast-provided Cartel Market pack from the latest shipment.
3. Holofeed
Eric Musco (Community Manager) confirmed that the Contraband Slot Machine, as deployed by Game Update 3.0.2, was working as intended, and that using it was most definitely not an exploit.
When Game Update 3.0.2a was deployed on Wednesday morning, Eric gave us a preliminary warning about the incoming nerf to the Contraband Slot Machine.
The PTS with Game Update 3.1 has been closed, ahead of the deployment of Game Update 3.1.1 on the PTS. Before it was closed, a second update was made including changes for the tanking Disciplines for Assassins (Darkness) and Jedi Shadows (Kinetic Combat). The update also changed Improved Mounting from a character perk to be Legacy-wide.
Game Update 3.1 will also include the fix for the Dark Project MK-1 schematic that reverted in Game Update 3.0 to requiring Sythetic Energy Matrix rather than Self-Perpetuating Power Cell.
Alex Modny provided a look ahead for Ranked PvP: Season 4 will begin with Game Update 3.1, and will last three months. Season 5 will follow immediately from Season 4 without a pre-season. From Season 5, the lowest of the three tiers of rewards will have a minimum rating requirement, meaning that simply having participated will not be enough to earn that tier's rewards.
Werit of Werit's Blog collected ten questions from the community via the SWTOR sub-Reddit, and received some answers from BioWare, which he also posted on Reddit.
Hillary Nicole is leaving BioWare. She joined the team around the end of June 2014, and Wednesday 21 January was her last day. The new contact for guilds is Tait Watson, and for fan sites it's Courtney Woods.
4. Community
Damon Homer nominated us for the People's Choice award in the 10th Annual Podcast Awards. If you'd like to nominate us too (or any other podcasts you enjoy!), you have until 2 February.
If you're after a lighthearted gaming podcast from a guy who does lots of funny voices, check out Boomy (@BoomysDarkside) on The Boomy Show!
Last week's Ootini Rage was provided by JD (@GaddockTeeg) of the Unnamed SWTOR Podcast. This week's is from @Freedious.
5. Force Feedback
Jay Connell recommends the iOS free SWTOR Holonet app for browsing the official forums on the go.
Aaree obtained a Contraband Slot Machine (back when they were a thing) for our Ootini Rage guild flagship, the Star Crawler: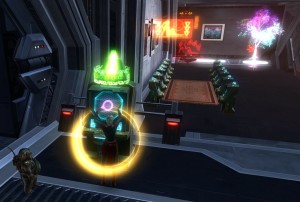 The following was posted by You Had One Job (@_youhadonejob) on Twitter:
6. Outro
On the show this week were Chill (@BrandonLStarr, twitch.tv/chillswtor), Teo (@jasonetheridge), Redna (@R3DN4, twitch.tv/r3dn4) and Bill (@BillLentz).
Information about our guilds on The Harbinger, Ootini Knights (Republic) and Ootini Rage (Empire), can be found here.
You can email questions and comments about the show to ootinicast@gmail.com. Follow us on Twitter via @OotiniCast. Check out our website, ootinicast.com, which has links to our presence on Google+ and Facebook. You can subscribe to us on iTunes, and listen to us on Stitcher and Spreaker. We record the show live every Wednesday at 4:30pm Pacific, goto ootinicast.com/live to find out how to join in!