Podcast: Play in new window | Download
Subscribe: RSS
As we wait for expansion news, we finally notice that Revan seems to have a spare lightsaber, and speculate wildly about the release date of 3.0.
1. Introduction
Chill is exploring the world of streaming on his Twitch channel, ChillSWTOR.
2. Tip of the week
Congratulations to this week's winner, Dunedai! Thanks to Billy-sai, Digi and Goldenchicken for entering.
Please send your tips to ootinicast@gmail.com by next Wednesday for a chance to win an M8-R3 code, courtesy of BioWare, and an OotiniCast-provided Cartel Market pack from the latest shipment.
3. Holofeed
4. Community
We welcome Tor Noob, another SWTOR podcast, to our growing community. You can follow the show's host Gin on Twitter using @tornoob, view her shows on YouTube, and subscribe via iTunes or RSS.
5. Force Feedback
Joe Foran's tweet about the similarity of the symbol used by the Sith Empire in the Old Republic era and the Republic at the time of the prequel movies led us to the following (via the Bendu page on Wookieepedia):
Prottal found an impostor Teo in ArcheAge: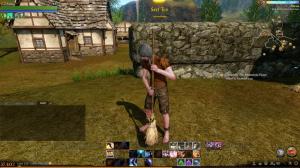 6. Outro
Thanks to Simon (@RPGbeatsRL) and Redna (@R3DN4, twitch.tv/r3dn4) for joining us this week.
Information about our guilds on The Harbinger, Ootini Knights (Republic) and Ootini Rage (Empire), can be found here.
You can email questions and comments about the show to ootinicast@gmail.com. Follow us on Twitter via @OotiniCast. Check out our website, ootinicast.com, which has links to our presence on Google+ and Facebook. You can subscribe to us on iTunes, and listen to us on Stitcher and Spreaker. We record the show live every Wednesday at 4:30pm Pacific, goto ootinicast.com/live to find out how to join in!