Podcast: Play in new window | Download
Subscribe: RSS
In the news we mainly talk about Conquests, now in their second week. Rube (@ThePummeler) then provides some great tips on how to be effective in open world PvP.
1. Introduction
Rube provided the following infographic to explain his choice of Twitter avatar: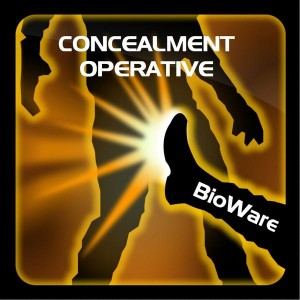 2. Tip of the week
Congratulations to this week's winner, Carnz! Thanks to Mariachi, DanielZRob, PJ, Julien and Socordia for entering.
You can find Socordia's forum post that describes the math behind his tip on not all Strongholds being equal here.
Please send your tips to ootinicast@gmail.com by next Wednesday for a chance to win an M8-R3 code, courtesy of BioWare, and an OotiniCast-provided Cartel Market pack from the latest shipment.
3. Holofeed
4. Community
Welcome back to JD with episode 54 of the Unnamed SWTOR Podcast!
The fourth episode of the Galactic Gamers Coalition podcast, which includes Road, Fred, Teo, Chuck and Brian from the Bad Feeling Podcast and Heather and Jason from Corellian Run Radio, is now available.
David and Simon interview Hillary Nicole (Community Coordinator from BioWare) in the episode 84 of Flash Point.
The Jawa Joyride is back in action! See Kuze's post for more information.
5. Force Feedback
We discuss tweets, emails and comments from Oofalong, Socordia, Greg Carter, Dan Cremer, GasGuy, Jegger and Simon (@RPGbeatsRL).
Here is Oofalong's infographic on the multi-step process of crafting Dark Projects: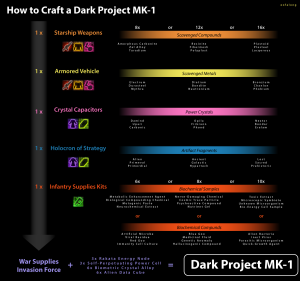 Socordia's analysis of what was contained in 216 Cartel Packs can be found here.
6. Sarlacc Digest
Rube provides many handy tips and tricks for being effective in open world PvP.
7. Outro
Thanks to Rube (@ThePummeler) and Redna (@R3DN4, twitch.tv/r3dn4) for joining us this week.
Information about our guilds on The Harbinger, Ootini Knights (Republic) and Ootini Rage (Empire), can be found here.
You can email questions and comments about the show to ootinicast@gmail.com. Follow us on Twitter via @OotiniCast. Check out our website, ootinicast.com, which has links to our presence on Google+ and Facebook. You can subscribe to us on iTunes, and listen to us on Stitcher and Spreaker. We record the show live every Wednesday at 4:30pm Pacific, goto ootinicast.com/live to find out how to join in!