Podcast: Play in new window | Download
Subscribe: RSS
In the news, we talk about Game Update 2.8.2, the Manaan lore article along with confirmation that part 2 of Forged Alliances will take place there, and Friday's Galactic Strongholds livestream. The discussion this week is Chill talking through his experience of spending a day visiting the BioWare Austin studio.
1. Introduction
You can see Teo being interviewed by Jacob (@deltiasgaming) on YouTube.
Having met the inestimable Simon (@RPGbeatsRL) in real life, Teo can only reiterate his recommendation that you follow him on Twitter, and subscribe to his awesome general gaming Flash Point podcast that he co-hosts with David (@theOceanicGamer).
2. Tip of the week
Congratulations to this week's winner, Tex McShootEmUp! Thanks to Swtorista and Mariarchi for entering.
Please send your tips to ootinicast@gmail.com by next Wednesday for a chance to win an M8-R3 code, courtesy of BioWare, and an OotiniCast-provided Cartel Market pack from the latest shipment.
3. Holofeed
4. Community
The third episode of the Galactic Gamers Coalition podcast is now available.
Congratulations to JD (@GTeeg) for 52 episodes of the Unnamed SWTOR Podcast!
5. Force Feedback
We discuss tweets, emails and comments from Jared (@SkipJerk), Chaz Lobo (@Strongshocker), Morriah, Justin, Moff Chong (@EmpireDivider), Mikhael Lombard (@hadrian9), Capo Nerd (@CapoMarmaglia) and Zodiac Netherstorm (@ZNetherstorm).
Please consider adding your vote to the SWTOR sub-reddit poll on which chat channel should be associated with our player Galactic Strongholds.
Capo Nerd of the Italian SWTOR community referred us to this SWTOR machinima video. Check out his channel for more!
Moff Chong was at the same end-of-beta dance party mentioned by Hillary in episode 154.
Darklighter wishes he could own this awesome life-sized Darth Malgus statue located near his place of employment: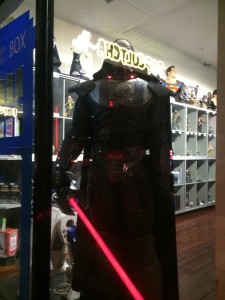 6. Sarlacc Digest
Chill talks us through his visit to BioWare's Austin Studio. You can hear his interview with all four members of the Community Team in episode 154.
The gallery below shows photos taken by Chill as he toured the studio. Please note that the images are quite large, and may take some time to load.
7. Outro
Thanks to Spencer (@Da_Dirty_Spoons) and Redna (@R3DN4, twitch.tv/r3dn4) for joining us this week.
Information about our guilds on The Harbinger, Ootini Knights (Republic) and Ootini Rage (Empire), can be found here.
You can email questions and comments about the show to ootinicast@gmail.com. Follow us on Twitter via @OotiniCast. Check out our website, ootinicast.com, which has links to our presence on Google+ and Facebook. You can subscribe to us on iTunes, and listen to us on Stitcher and Spreaker. We record the show live every Wednesday at 4:30pm Pacific, goto ootinicast.com/live to find out how to join in!