Podcast: Play in new window | Download
Subscribe: RSS
In the news we cover what's in Game Update 2.7.2, the mechanics of the Festival of Splendor event coming in Game Update 2.8, and what came out of the Community Cantina in Vancouver. In our discussion we present WZ101, where our guest PvP expert Ayita provides the basics of each warzone for PvP beginners.
1. Introduction
2. Tip of the week
Congratulations to this week's winner, Hagu Pally! Thanks to Kal, Anuwen and Kuze for entering.
Please send your tips to ootinicast@gmail.com by next Wednesday for a chance to win a M8-R3 code, courtesy of BioWare, and an OotiniCast-provided Cartel Market pack from the latest shipment.
3. Holofeed
4. Community
Our guildmate Morriah, an experienced player who is very willing to teach others, is hoping to form a leveling group to do Flashpoints and heroic missions that would run on a couple of weekdays (US afternoon); see this thread in our forums if you're interested.
If you're in one or both of our guilds, please follow @OotiniKnights and/or @OotiniRage. Our guildmate Ferrous Terran is now able to utilise both to keep everyone informed of the latest happenings.
5. Force Feedback
We discuss tweets, emails and comments from @JayConnell, Chaz Lobo (@Strongshocker), Simon (@RPGbeatsRL), Nathaniel Starr, Spikey Joe, Matthew, Craig, Grim (@Grimrok), Justin (@JustND1998), Bad Feeling Podcast (@badfeelingpdcst), Larry Everett (@Shaddoe), @fnord3125, Les (@foehammer75), @Bara_Dur, @darksplat, @TheMalgadar, Spero and Devon.
Bara-dur, winner of last week's Tip of the Week, provided a most suitable setting to show off his new M8-R3 droid friend!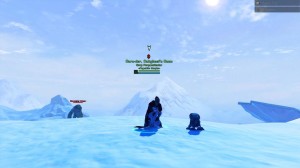 Les provided the screenshot below (from his guildmate Utopia) of the gap in the Belsavis landscape that will let you get to an unpopulated version of Section X. He also found this video that shows a player riding around inside the area.
Jay Connell suggests that if you're interested in making the dream of an official Lego version of the Smuggler's XS Freighter come true, please support the proposal here.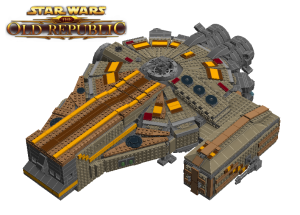 6. Sarlacc Digest
Prompted by a question in last week's show from @mark_swtor, we thought a class on warzone mechanics was in order. Laurie M, who suggested we call the segment "WZ101", found us a PvP expert, Ayita of The Shadowlands, to give us the basics on all the warzones in an interview she did with Redna.
If you'd like to get involved in the community that Laurie M and Ayita run on Facebook, you can request to join their closed group here.
7. Outro
Thanks to Redna (@R3DN4, twitch.tv/r3dn4) for joining us this week.
Information about our guilds on The Harbinger, Ootini Knights (Republic) and Ootini Rage (Empire), can be found here.
You can email questions and comments about the show to ootinicast@gmail.com. Follow us on Twitter via @OotiniCast. Check out our website, ootinicast.com, which has links to our presence on Google+ and Facebook. You can subscribe to us on iTunes, and listen to us on Stitcher. We record the show live every Wednesday at 4:30pm Pacific, goto ootinicast.com/live to find out how to join in!