Podcast: Play in new window | Download
Subscribe: RSS
Not much news this week, but we do have our first Galactic Starfighter roundtable featuring the Gunship, with debut guests Dunedai and Dan joining us to share their knowledge!
1. Introduction
The following is a screenshot showing Red's friend Jubbs achieving over 2000 Ship Requisition in a single GSF match: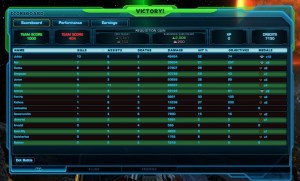 2. Tip of the week
Congratulations to this week's winners, Bea'Triss of The Shadowlands and our guildmate Carnz! Both will receive Taunfaun codes and a Starfighter Pack provided by Dunedai.
The site that Carnz provided can be found here.
Please send your tips to ootinicast@gmail.com by next Wednesday for a chance to win a Taunfaun code, courtesy of BioWare, and an OotiniCast-provided Cartel Market pack from the latest shipment.
3. Holofeed
4. Community
In SWTOR Mechanics Basics: Understanding Critical Chance (posted on Dulfy's site), Oofalong of Prophecy of the Five starts a series on game mechanics.
PvP specialist Jacob has written an article about Gamer Etiquette.
The latest in Jean Prior's SWTOR Loading Screen column is the article A Latecomer's Quest for HK-51 Part 1.
We'd like to introduce Heather's blog, Pretty Little Sith. @Ben_b55 particularly recommends her two latests posts, 7 Reasons Why I Love My Sith Assassin and Girls with Gamer Boyfriends: Get Over It.
Finally, Kranitoko is back with another video where he opens the latest Hypercrate, this time containing Galactic Ace's Starfighter Packs. It includes another awesome introduction!
5. Force Feedback
We discuss tweets, emails and comments from @BedouinBrennan, @TheMalgadar, @BillLentz, @Bewwan, Les (@foehammer75), Hru, @Dekarch, @dkalagian, @ben_b55, @Adam_Schumpert, Terg (@TheTurg), Vicock, Justin, Matt McDonald, Mike, @Span79X, Madmar (@Swtorfamily), @PatKasprik and JB (@O_JohnnyBravo_O).
Hru recommends we find out a little more about Jori Daragon, given some of us are wearing her loincloth.
Adam Schumpert suggests the track Dude, Where's My AT-AT At? from the Ghosts of Nostalgia album by The Garthim-Master & DJ Extend.
The following charts show the participating in Ranked PvP, as determined by a longitudinal analysis of the Leaderboard data:
Dunedai presents the screenshots to show that he too achieved over 2000 Ship Requisition in a single match. In fact, over 2100!
6. Sarlacc Digest
Dunedai and Dan take us through their recommended component loadout for the Gunship. They then talk offensive and defensive tactics.
7. Outro
Thanks to Dunedai (@DunedaiForel), Dan and Redna (@R3DN4, twitch.tv/r3dn4) for joining us this week.
Information about our guilds on The Harbinger, Ootini Knights (Republic) and Ootini Rage (Empire), can be found here.
You can email questions and comments about the show to ootinicast@gmail.com. Follow us on Twitter via @OotiniCast. Check out our website, ootinicast.com, which has links to our presence on Google+ and Facebook. You can subscribe to us on iTunes, and listen to us on Stitcher and Radio4Gamers.