Podcast: Play in new window | Download
Subscribe: RSS
Game Update 2.6: Galactic Starfighter is here, bringing with it bombers and the new Team Deathmatch mode. We also cover the Q&A at the Phoenix Community Cantina, and the producer's letter laying out the first half of 2014 for SWTOR! Finally, Bill is back with some more credit-making tips.
1. Introduction
Bill's new look for his Vanguard, which he calls "The Green Machine":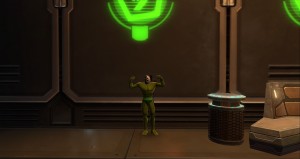 Bill also discovered just what happens if you die while taking a speeder between travel points: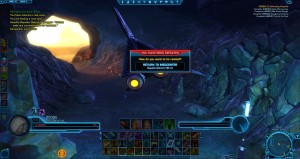 2. Tip of the week
Congratulations to this week's winner, Esiasch De Prap! His derived best combination of crew skills and classes can be found here.
Next week only, we're after tips specific to Galactic Starfighter, in honour of the two Taunfaun codes supplied by Dunedai that will be given to the winner and runner-up. Please send your tips to ootinicast@gmail.com by next Wednesday.
3. Holofeed
4. Community
The OSWguild from The Harbinger, which you can find on YouTube here (follow them on Twitter via @OSWguild) have videos summarising the Game Update 2.6 patch notes, and their reaction to the lack of new operations mentioned in the producer's letter.
Moff Chong will be in Las Vegas on 22 February with Chill and our friends, guildmates and fellow raiders Mosq, Terg and Bill. They will welcome all and sundry who'd like to join them for some tasteful debauchery.
5. Force Feedback
We discuss tweets, emails and comments from @TheMalgadar, Terg (@TheTurg), @Dekarch, @ForceChuckle, @JediKrackr, @DsanOB, @Enyonix (Xusin legacy), Graham "Awesome" Sellars (@GrahamMSellars), Cole, @PatKasprik, @Da_Dirty_Spoons and @DurtaDurta.
Here is @Enyonix's shrine to Star Wars: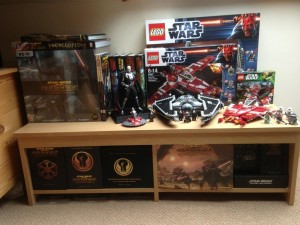 The following is the picture that Charles Boyd tweeted, showing him and a voice actor that we're speculating is Brian Bloom (Trooper).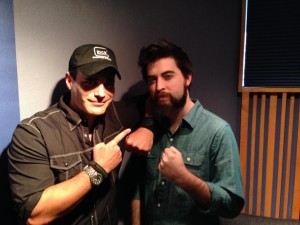 6. Sarlacc Digest
Bill returns to impart yet more credit-making advice. The two topics he covers are how to make credits from companion gifts, and is collusion to fix prices allowed and viable.
7. Outro
Thanks to Bill (@BillLentz) and Redna (@R3DN4, twitch.tv/r3dn4) for joining us this week.
Information about our guilds on The Harbinger, Ootini Knights (Republic) and Ootini Rage (Empire), can be found here.
You can email questions and comments about the show to ootinicast@gmail.com. Follow us on Twitter via @OotiniCast. Check out our website, ootinicast.com, which has links to our presence on Google+ and Facebook. You can subscribe to us on iTunes, and listen to us on Stitcher and Radio4Gamers.