Podcast: Play in new window | Download
Subscribe: RSS
We discuss the latest news, including Game Updates 2.1.1 and 2.2, and what's coming in the Summer of SWTOR. In our discussion, Redna provides an update on the usefulness of gearing for Power since 2.0 was released.
1. Introduction
Chong created a video of Ham versus Mosq in a 1v1 match from the first Ham's Back-alley Brawl.
2. Tip of the Week
Congratulations to this week's winner, our guildmate Dunedai!
3. Holofeed
4. Community
Kuze is still working on his instructional video on platforming. You can find his existing guides in Kuze's Korner, including new videos for the Datacrons on Coruscant and Dromund Kaas.
We recommend taking a look at the revamped SWTOR sub-Reddit.
For those interested in joining Ootini Fight Club for some endgame PvP, please contact Chong by email (empiredivider@gmail.com).
5. Force Feedback
We discuss tweets from @madmar_sith (be sure to follow him back to join the #swtorfamily!), @YojeVawree, @Tordenelgen (Lucas), @GregCarter78, @terencemyers, @AHlaenxna (Vis), @JediKrackr, @Rrubb and @Jayconnell, emails from Rendrin and Quaza IMpsbane, and a comment from David.
You can see Madmar's raid group (Team Maul in The Circle guild on The Red Eclipse server) complete the final encounter in hard mode Scum and Villainy in this YouTube video.
Rub provides the following for your amusement: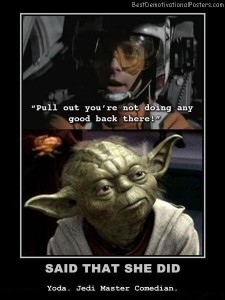 6. Sarlacc Digest
7. Outro
Thanks to Redna (@R3DN4) for joining us this week.
Information about our guilds on The Harbinger, Ootini Knights (Republic) and Ootini Rage (Empire), can be found here.
You can email questions and comments about the show to ootinicast@gmail.com. Follow us on Twitter via @OotiniCast. Check out our website, ootinicast.com, which has links to our presence on Google+ and Facebook. We are a proud member of the TOR Syndicate! You can subscribe to us on iTunes and Zune, and listen to us on Stitcher and Radio 4 Gamers.