Podcast: Play in new window | Download
Subscribe: RSS
Game Update 2.1: Customization is here! We discuss our initial impressions, and Moff Chong joins the regular crew to give some Seeker Droid tips and tricks.
1. Introduction
Chong has used the Appearance Designer Kiosk to alter his PvP Sniper into a most fierce feline: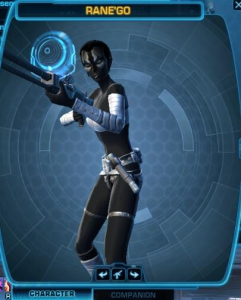 2. Trivia Question
Congratulations to this week's winner, Voyak!
3. Holofeed
4. Community
Thanks to @TheTurg (Terg) for his most generous donation!
Kuze is still working on his instructional video on platforming. You can find his existing guides in Kuze's Korner.
Dulfy's SWTOR Dye Modules guide is well worth perusing!
For those interested in joining Ootini Fight Club for some endgame PvP, please contact Chong by email (empiredivider@gmail.com).
5. Force Feedback
We discuss tweets from @madmar_sith (be sure to follow him back to join the #swtorfamily!), @Jayconnell, @TheTurg (Terg), @EmpireDivider (Chong), @JediKrackr, @KairiahMedens (David), @ForceChuckle, @roguish98 (Matt Roberts), @ChazLobo, @rclemons77 (Brian Clemons), @grimrok (Grim), @joseph_foran, @HamSammich509, @IzaakTheMad, @mmartong (Markos Martong), @rocketman003 (Ki'el), @weihanthekidsun (Weihan Sun), @masterbearjedi (Raz), @therealHausman (Jacob), @GrahamMSellars, @RoughneckRoy, and an email from Green Armadillo, the author of the most excellent Player vs Developer blog.
6. Sarlacc Digest
Chong gives some expert advice on how best to utilise one's Seeker Droid.
We also mention the known issue (and its workaround) for the final mission in the Macrobinocular chain.
7. Outro
Thanks to Moff Chong (@EmpireDivider), Redna (@RystoJ) and Hyp (@Hypknotoad) for joining us this week.
Information about our guilds on The Harbinger, Ootini Knights (Republic) and Ootini Rage (Empire), can be found here.
You can email questions and comments about the show to ootinicast@gmail.com. Follow us on Twitter via @OotiniCast. Check out our website, ootinicast.com, which has links to our presence on Google+ and Facebook. We are a proud member of the TOR Syndicate! You can subscribe to us on iTunes and Zune, and listen to us on Stitcher and Radio Paragon.