Podcast: Play in new window | Download
Subscribe: RSS
We discuss patch 1.6.3 and the current news, including some insightful revelations about the Cartel Market from Damion Schubert.
1. Introduction
Hyp received the awesome helmet from Karagga at the end of our run through nightmare-mode Karagga's Palace: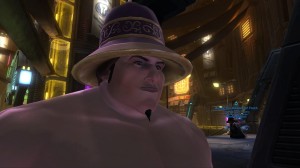 Meanwhile, on the Imperial side his levelling group toon (who we know fondly as "Baldy") isn't looking quite so dapper: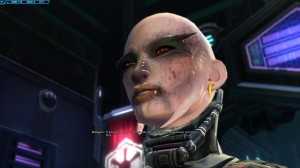 2. The Holofeed
3. Force Feedback
We'd like to welcome our new writer Grav, whose published his debut article "I can stop whenever I want!" about Cartel Market addiction. More good stuff from him to come!
We discuss tweets from @masterbearjedi (Raz), @ForceChuckle, @tshapedvisor, @rbleamon (Ray Leamon), @voyak, @Telenroidswtor, @revlo1983 (Rev. Nick Logan) and @vrodcruiser.
Chong (@EmpireDivider) provided a screenshot showing how to see the capture of a cube in Ancient Hypergate:
He also sent us the scoreboard from a warzone dominated (15/16) by Agents and Inquisitors: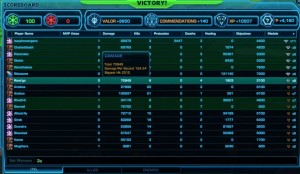 Drew emailed in to ask whether we knew of any guilds that offer support for grouping on the long journey to level 50. Please email us if you know of a guild that might suit Drew, I'll we'll pass it on to him.
Eli Ejb asked us via Facebook about a issue that some players have been encountering when attempting to purchase Cartel Coins. We found some good information in the Cartel Coins FAQ, including the surprising revelation that there's apparently a cap on how many Cartel Coins you can purchase in a given day.
In the words of its author (Terg Turgedson, @TheTurg), he provides a "fair and balanced take on SWTOR" in his blog post "The Real Agenda Behind Star Wars: The Old Republic".
Also, a hearty greeting to the newest member of the SWTOR podcast community, the "Rule of Two Cast". Best of luck to Virage and Kenzan in their podcasting adventure.
4. Outro
Next week's Sarlacc Digest will be our second theorycrafting discussion, with Redna discussing defensive stats. We will be live-streaming the recording of the show, with details available on ootinicast.com/live.
Thanks to Redna (@RystoJ) and Hyp (@Hypknotoad) for joining us this week.
You can email questions and comments about the show to ootinicast@gmail.com. Follow us on Twitter via @OotiniCast. Check out our website, ootinicast.com, which has links to our presence on Google+ and Facebook. We are a proud member of the TOR Syndicate! You can subscribe to us on iTunes and Zune, and listen to us on Stitcher and Radio Paragon.