Podcast: Play in new window | Download
Subscribe: RSS
We go over the latest SWTOR news, including the first details to emerge about the upcoming Game Update 1.7 "Return of the Gree". In our discussion, Redna takes us through the stats affecting damage and healing, including recommendations on how to best balance them on your characters.
1. Introduction
How the Security Key app looks on Hyp's new Samsung Galaxy Note II:
2. Trivia Question
Han Solo is famous for many things, not the least of which is his own name: Solo immediately points out to the audience that the character tends to be a loner, who will undergo an internal struggle before he might join the Rebellion.
But Solo is hardly the only example of names having something to do with the character. Name as many as you can, within the following guidelines:
They should appear in at least one of the six movies; and
This is for proper names of individuals only, not generic ones like Sand People or one-time insults like "fuzzball."
The one with the most such named characters by next Wednesday will win a Taun Fawn code courtesy of BioWare.
If you are interested in being entered in the random drawing for a Tauntaun Fawn code, please send your answer to ootinicast@gmail.com.
3. The Holofeed
4. Force Feedback
We discuss tweets from @Voyak, @AHlaenxna (Vis), @vayne_verso, @MikeG_75, @ChazLobo, @tshapedvisor, @rbleamon, @bytorsnowdog, @Rrubb, @AspisVodox and @JediKrackr.
Here is the ship that @EmpireDivider (Chong) saw on Empire-side Balmorra: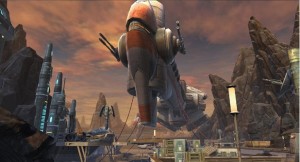 There is a new instalment of Dimbo the Trooper available, well worth reading!
@Galdarion refers us to his Gunslinger/Sniper Advanced Class Guide and his Tactical Strike column at Corellian Run Radio.
5. Sarlacc Digest
Redna led our discussion this week, in which we covered the stats affecting damage, specifically one's primary stat (Strength, Willpower, Cunning or Aim), Critical Rating, Surge Rating, and Power. The following are the graphs that Redna talks to:
6. Outro
Thanks to Redna (@RystoJ) and Hyp (@Hypknotoad) for joining us this week.
You can email questions and comments about the show to ootinicast@gmail.com. Follow us on Twitter via @OotiniCast. Check out our website, ootinicast.com, which has links to our presence on Google+ and Facebook. We are a proud member of the TOR Syndicate! You can subscribe to us on iTunes and Zune, and listen to us on Stitcher and Radio Paragon.