Podcast: Play in new window | Download
Subscribe: RSS
We discuss two interviews with BioWare's Rob Hinkle about the current state and future plans for PvP in SWTOR.
1. Introduction
Chong's awesome new assault cannon: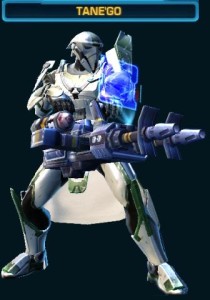 2. Trivia Question
Now that Disney owns LucasFilm, it seems a good time to ask: what song from Disney's Fantasia contains a passage that John Williams clearly borrowed for one of his classic Star Wars songs?
If you are interested in being entered in the random drawing for a Tauntaun Fawn code, please send your answer to ootinicast@gmail.com.
3. Force Feedback
We discuss tweets from @DarthKenji (William Keele), @StoleTarts (Megan), @rbleamon (Ray Leamon), @Dimbo56, @ForceChuckle, @Bytorsnowdog (Snowy), @MikeG_75 and @ChazLobo.
You can find the forum post that @ForceChuckle referred to about Ancient Hypergate strategy here.
We also discuss some great ideas from our guildmate Dan, and Dillon E's suggestion for the addition of organic mounts to the game.
4. Sarlacc Digest
Rob Hinkle, Senior Systems Designer specialising in PvP, gave two interviews in recent weeks, prior to the deployment of Game Update 1.6:
5. Outro
Thanks to Chong (@EmpireDivider), Redna (@RystoJ) and Hyp (@Hypknotoad) for joining us this week.
You can email questions and comments about the show to ootinicast@gmail.com. Follow us on Twitter via @OotiniCast. Check out our website, ootinicast.com, which has links to our presence on Google+ and Facebook. We are a proud member of the TOR Syndicate! You can subscribe to us on iTunes and Zune, and listen to us on Stitcher.