Podcast: Play in new window | Download
Subscribe: RSS
Chill, Teo and Hyp discuss a few developer posts, and a few key points from the recent SWTOR-related interviews at GamesCom. We also have the next instalment of our hard mode guides for the level 50 in a hurry, this week covering The Battle of Ilum.
1. Introduction
2. Question to the panel
Chill's Sith Sorcerer has achieved Dark V; he invites us to contrast the appearance from the character's creation to her current dark incarnation: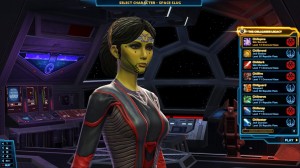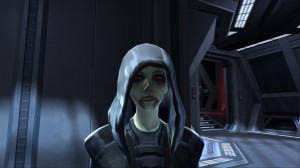 3. Trivia question
This week's question: What does Star Wars: Episode IV – A New Hope have in common with two other great action films: A Fistful of Dollars and The Magnificent Seven?
If you are interested in being entered in the random drawing for a Tauntaun Fawn code, please send your answer to ootinicast@gmail.com.
4. The Holofeed
In an attempt to reduce the lag encountered in operations, their solution—to reduce the population on a hardware shard hosting operation instances—had the unintended consequence of locking some members of a raid out! It appears that subsequent tweaking has resolved the issue.
Jason Attard (Senior Game Balance Designer) gives us some insight on the accuracy of bosses in operations.
When SWTOR goes free-to-play, we are told that cash shop items (boost consumables, unlocks, vanity items, etc.) can be per-character (but will tend to be bind-to-legacy) or account-wide. In some cases, a cheaper per-character option will be available in addition to the more expensive full account-wide purchase.
Rob Hinkle (Senior PvP Designer) answered a couple of questions about PvP:

The new warzone, Ancient Hypergates, will be added to those available for ranked warzones as soon as it's available;
8-man pre-mades for non-ranked warzones isn't going to happen anytime soon;
Queuing with less than an 8-man for ranked warzones is coming post-1.4; and
Season 1 of ranked warzones (we're currently in the pre-season) will kick off sometime post-1.4.

Something went wrong earlier this week that caused some players to be unable to access one or more of their characters. The issue was fixed within a day or so.
Jason Attard explains the process used to allocate stats across the armoring, mods and enhancements that are present in operation gear.
Dueling on the Fleet isn't going to happen in the foreseeable future, it seems.
The first two Lego kits based on SWTOR are available for purchase! You can get a  Republic Striker-class Starfighter for $US44.99: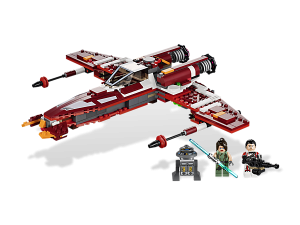 You can win your own 1:4 scale Darth Malgus statue courtesy of Sideshow collectibles. Entries close 23 September, you won't receive it until March 2013, and you'll have to pay for shipping!
We discuss a few key points that emerged from numerous interviews conducted with SWTOR's leadership at GamesCom:

Matthew Bromberg (General Manager, BioWare Austin)
Jeff Hickman (Executive Producer, SWTOR)
Gabe Amatangelo
Lars Malcharek (SWTOR German Community Lead)
5. Force Feedback
We discuss tweets from @ForceChuckle, @bytorsnowdog (Snowy), @rbleamon (Ray Leamon) and @Rrubb, and comments from Voyak and masterjedi.
Mags upgraded his repair droid to the third (the highest) tier, and to his surprise observed that its another C2-N2!
Our guildmate Chong is organising a ranked warzone team, starting at one day a week, kicking off weekly at 8pm Saturday PDT. If you are interested, please email chong@ootinicast.com.
6. Sarlacc Digest
We continue our series that provides hints and tips for the player who wants to get their daily Group Finder hard mode done in a hurry. This week we discuss The Battle of Ilum, a hard mode Flashpoint available to both factions.
Next week, another shared Flashpoint: The False Emperor.
7. Outro
Thanks to Hyp (@Hypknotoad) for joining us this week.
You can email questions and comments about the show to ootinicast@gmail.com. Follow us on Twitter via @OotiniCast. Check out our website, ootinicast.com, which has links to our presence on Google+ and Facebook. We are a proud member of the TOR Syndicate! Subscribe to us on iTunes, and watch for us in your Bind on Equip feed.