Podcast: Play in new window | Download
Subscribe: RSS
Hyp once again joins Chill and Teo to go over the detail revealed this week about the upcoming Game Update 1.3. We also discuss the layoffs at BioWare Austin affecting the SWTOR team, and what this means for the game.
1. Introduction
2. Question to the panel
The UI setting that takes the pain out of having multiple windows open is accessible in the main window of the Interface Editor:
Ensure that checkbox for "Enable Movable Secondary Window" is set, and all will be well!
3. Trivia question
From last week's challenge, here is the entry sent in by Visaan and Chong:
This week's challenge: where in the game can you find a Hutt frozen in carbonite?
If you are interested in being entered in the random drawing for an in-game prize offered on Space Slug (either faction), please send your answer to ootinicast@gmail.com.
4. The Holofeed
There was no maintenance this week, and no patches deployed.
BioWare released a trailer for Game Update 1.3 (also on YouTube).
The trailer included a couple of teaser images for what's coming after Game Update 1.3; make of them what you will!
5. Force Feedback
We discuss tweets from @ForceChuckle, @IRBountyHunter (Arron Thornton), @John_K64 (John Kuntz), @cypher_x (Cypher) and @lesman72 (Les).
Cypher suggests that the following Star Wars-themed bed, though sadly it remains only a concept at this point. As Hyp suggest, perhaps this warrants a Kickstarter project?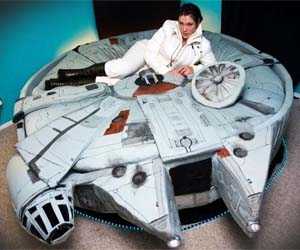 6. The Sarlacc Digest
Early this week, the BioWare doctors announced that their Austin studio was restructuring, which would result in a number of layoffs. While no further details were released about who was let go, we've subsequently found out that Stephen Reid (Senior Community Manager), Brian Arndt (Senior Video Editor), Tina Wall (QA) and David C. Simon (Writer) lost their jobs.
We attempt to remain objective as we discuss what this could mean for SWTOR. Our consensus is more or less that it's too early to tell, and that we simply have to wait and see what impact the reduction in the size of the development team has on the rate of content production and its quality.
The hosts of the show wish those affected the very best in finding alternative employment, and offer our sincere thanks for the wonderful work they've done in helping to create the game that we continue to enjoy.
7. Outro
Thanks to Hyp (@Hypknotoad) for joining us this week.
You can email questions and comments about the show to ootinicast@gmail.com. Follow us on Twitter via @OotiniCast. Check out our website, ootinicast.com, which has links to our presence on Google+ and Facebook. We are a proud member of the TOR Syndicate! Subscribe to us on iTunes, and watch for us in your Bind on Equip feed.