Podcast: Play in new window | Download
Subscribe: RSS
As Knights of the Eternal Throne draws ever nearer, we discuss what's been revealed about class changes coming with Game Update 5.0, more details about Uprisings, and EA's quarterly report.
1. Introduction
2. Tip of the week
Congratulations to this week's winner, LaChimba! Thanks to Kuze and Sooty for entering.
Please send your tips to ootinicast@gmail.com by next Tuesday for a chance to win a Taunfawn or M8-3R droid code, courtesy of BioWare, and an OotiniCast-provided Cartel Market pack from the latest shipment.
3. Holofeed
A series of posts on the official forums has provided a taste of the changes being made to all the classes in the game.
This week's livestream provided some gameplay (both Story and Veteran) from the Hoth Uprising.
Following from last week's earning call, EA have submitted their Form 10-Q (quarterly report).
4. Community
Our best wishes to our friend Fy, Deck Officer in our Ootini guilds, who is on her way to sit her final exam to become a Doctor of Chiropractry!
Hawke (@StreamingHawke) is now streaming SWTOR and other games regularly on Twitch (twitch.tv/Hawke53051). His current schedule is from 5pm on the weekend, 7pm Monday through Wednesday, and 8pm on Thursday. You can also check out his Facebook groups (SWTORPC and SWTOR Gamer's Den).
5. The Academy
This week Swtorista will tell us about Cartel Market items!
6. Force Feedback
Alex sent us this screenshot from his first time tanking in SWTOR: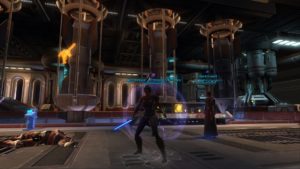 7. Outro
On the show this week were Chill (@BrandonLStarr, twitch.tv/chillswtor), Teo (@jasonetheridge) and Illeva (@IllevaGaming, twitch.tv/illeva).
Information about our guilds on The Harbinger, Ootini Knights (Republic) and Ootini Rage (Empire), can be found here.
You can email questions and comments about the show to ootinicast@gmail.com. Follow us on Twitter via @OotiniCast. Check out our website, ootinicast.com, which has links to our presence on Google+ and Facebook. You can subscribe to us on iTunes, and listen to us on Stitcher and Spreaker. We record the show live every Wednesday at 4:30pm Pacific, goto ootinicast.com/live to find out how to join in!