Podcast: Play in new window | Download
Subscribe: RSS
The "Betrayed" trailer has been released, along with a veritable flood of information about Knights of the Eternal Throne! We talk all things KotET, along with our returning guest Cristina giving us her firsthand account of the Community Cantina in New York.
1. Introduction
Cristina obtained the following most awesome picture of her and her husband from the Community Cantina: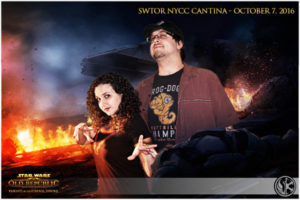 Alex is hoping that this isn't an indication of what's in KotET: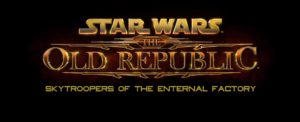 Charlie's latest video analyses what we know so far about KotET. He also obtained this most amazing Star Wars lavalamp: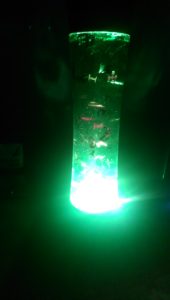 2. Tip of the week
Congratulations to this week's winner, Cole! Thanks to GasGuy, Javadoggy and LaChimba for entering.
Please send your tips to ootinicast@gmail.com by next Tuesday for a chance to win a Taunfawn or M8-3R droid code, courtesy of BioWare, and an OotiniCast-provided Cartel Market pack from the latest shipment.
3. Holofeed
4. The Academy
Swtorista continues her PvP series with a detailed overview of the 8v8 warzone Ancient Hypergate!
5. Force Feedback
Alex spotted this Hammerhead Corvette in the second official trailer for Star Wars: Rogue One, a starship inspired by the SWTOR Hammerhead-class cruiser and its later incarnation, the Thranta-class corvette:

Penny Arcade published a cartoon mentioning KotET.
6. Outro
On the show this week were Chill (@BrandonLStarr, twitch.tv/chillswtor), Teo (@jasonetheridge), Cristina (@CristiPetrarca,cristinapetrarca.com), Alex (@MixUpPixels, geek-podcast.com) and Charlie (@Kranitoko, youtube.com/KranitokoGames).
Information about our guilds on The Harbinger, Ootini Knights (Republic) and Ootini Rage (Empire), can be found here.
You can email questions and comments about the show to ootinicast@gmail.com. Follow us on Twitter via @OotiniCast. Check out our website, ootinicast.com, which has links to our presence on Google+ and Facebook. You can subscribe to us on iTunes, and listen to us on Stitcher and Spreaker. We record the show live every Wednesday at 4:30pm Pacific, goto ootinicast.com/live to find out how to join in!