Podcast: Play in new window | Download
Subscribe: RSS
Plenty of news this week, including the joyous if belated end to Nightmare Lootgate, the change to the Cartel Packs in Game Update 4.1, and the upcoming conclusion of the KotFE revamp of crafting. We then debut our Academy segment for new players, and conclude with a discussion about whether raiding has a future in any MMO, especially SWTOR.
1. Introduction
Here is the special achievement that Blay created for his inaugural appearance on OotiniCast:
2. Tip of the week
Congratulations to this week's winner, Teadra! Thanks to Johnny (@BornToEatBacon), Styrka, ElionD and Uwen for entering.
Please send your tips to ootinicast@gmail.com by next Tuesday for a chance to win a Taunfawn or M8-3R droid code, courtesy of BioWare, and an OotiniCast-provided Cartel Market pack from the latest shipment.
3. Holofeed
4. Community
Thanks to our latest Ootini Patron: Sean B, John L and Scott S!
You can find our OotiniCast shirts linked in our store.
All the details about the Ootini Events that Djredd has organised for February can be found in his forum post.
Lauren (@_BlushingFox, blushingfox.deviantart.com) drew this picture of Aaree's main character (her Jedi Sage):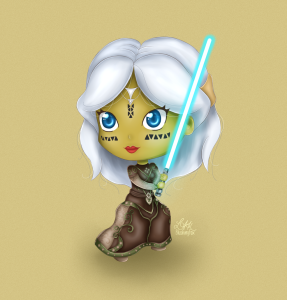 You can see Lauren's creating this picture in this sped-up YouTube video.
5. The Academy
Our guest Swtorista answers the following question for returning and new players:
I'm a new player who's got a character to 65, done with the story for now, and am doing the Alliance grind.. but what else is there to do? What do I do now?
6. Force Feedback
Here is Billy-sai enjoying a blue milk at the local cantina at Disneyworld: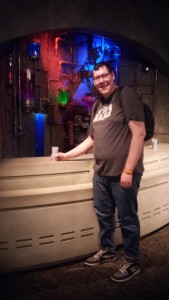 Stephen Cyr sent this video of he and his son joining forces as two unlikely, and overweight, Jedi heroes!
George Takei posted this example of not-too-bad Star Wars humour:
7. Sarlacc Digest
We discuss the question raised in this thread on the official forums: does raiding have a future in any MMO, and SWTOR in particular?
8. Outro
On the show this week were Chill (@BrandonLStarr, twitch.tv/chillswtor), Teo (@jasonetheridge), Swtorista (@swtorista, swtorista.com, swtorstrongholds.com) and Blay (@Blachloch).
Information about our guilds on The Harbinger, Ootini Knights (Republic) and Ootini Rage (Empire), can be found here.
You can email questions and comments about the show to ootinicast@gmail.com. Follow us on Twitter via @OotiniCast. Check out our website, ootinicast.com, which has links to our presence on Google+ and Facebook. You can subscribe to us on iTunes, and listen to us on Stitcher and Spreaker. We record the show live every Wednesday at 4:30pm Pacific, goto ootinicast.com/live to find out how to join in!