Podcast: Play in new window | Download
Subscribe: RSS
Plenty of news, including the deployment of Game Update 3.1.2, featuring the Low Slash bug, the latest quality of life improvements from Game Update 3.2 on the PTS, and much more.
1. Introduction
This week we welcome two new guests, Jeremy and Sechari.
Jeremy's (@Darksplat) gaming history started with a Commodore 16 (I didn't know that was a thing!), and he's always been a Sega console fanboy (with such hits as DaytonaUSA). His first and only MMO prior to SWTOR was Lego Universe. He's currently a proud member of the Ewokalypse Now (Republic) and Warchild (Empire) guilds on The Harbinger.
Sechari (@iamsechari) is a streamer, hosting his show The Inner Sanctum on most nights starting at 10pm Central Time (US) on his Twitch channel, twitch.tv/sechari. Be sure to like his Facebook page! He's the guildmaster of the Vindictive guild (Empire) on The Bastion.
2. Tip of the week
Congratulations to this week's winner, Nightmare of Prophecy of the Five! Thanks to Flox, Avisans and Mariarchi for entering.
Please send your tips to ootinicast@gmail.com by next Tuesday for a chance to win a Taunfawn or M8-R3 droid code, courtesy of BioWare, and an OotiniCast-provided Cartel Market pack from the latest shipment.
3. Holofeed
4. Community
Thanks to our first Ootini Patrons: Aaree, Mat3, XamXam, Master Jedi, Chong, ForceChuckle, Greg, Ragetti and Pallais. You too can patronize us on Patreon!
KeyboardNinja's ideal tank stat distribution post on the official forums has been updated. You can always find it linked from our sidebar.
TOR Community's effort to replicate the functionality of the defunct Ask Mr Robot and TORHead have borne some initial fruit with item tooltips. This Reddit post provides further guidance on getting them going on your web site.
5. Force Feedback
Here is the Sandcrawler deco used by Kuze that he mentioned in episode 198: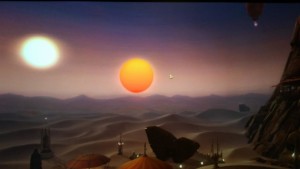 If you have any suggestions for a good gaming laptop in the $800-1000 price range, please help Bear out by replying in this forum thread.
Chong is shopping for a new lightsaber, and is currently quite taken by the "Sword of Omens" hilt.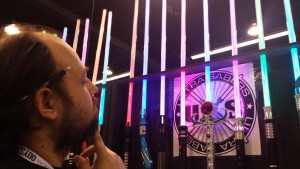 Chong and Bill are both attending Star Wars Celebration:
And so it begins: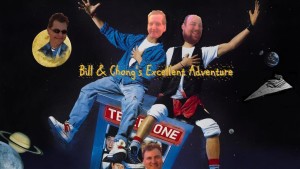 Jason Willis sent us this picture of the 8 foot wide Lego Death Star at Legoland in California:
Here is Jeremy's vast array of Star Wars collectibles:

6. Outro
On the show this week were Chill (@BrandonLStarr, twitch.tv/chillswtor), Teo (@jasonetheridge), Jeremy (@Darksplat) and Sechari (@iamsechari, twitch.tv/sechari).
Information about our guilds on The Harbinger, Ootini Knights (Republic) and Ootini Rage (Empire), can be found here.
You can email questions and comments about the show to ootinicast@gmail.com. Follow us on Twitter via @OotiniCast. Check out our website, ootinicast.com, which has links to our presence on Google+ and Facebook. You can subscribe to us on iTunes, and listen to us on Stitcher and Spreaker. We record the show live every Wednesday at 4:30pm Pacific, goto ootinicast.com/live to find out how to join in!