Podcast: Play in new window | Download
Subscribe: RSS
We talk double XP, Rakghouls, striated color crystals, the latest from Game Update 3.2, along with Star Wars books, toys and games. And, of course, Kai Zykken's Mega-, Micro- and Stationary Mounts!
1. Introduction
2. Tip of the week
Here is the complete list of companion gifts, sorted by type and grade, that Dephine sent us: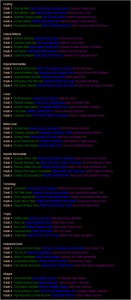 Congratulations to this week's winner, Avisans! Thanks to Jerrold, GasGuy, Dephine, Bellazar and Jezak for entering.
Please send your tips to ootinicast@gmail.com by next Tuesday for a chance to win a Taunfawn or M8-R3 droid code, courtesy of BioWare, and an OotiniCast-provided Cartel Market pack from the latest shipment.
3. Holofeed
Tait Watson announced a surprise double XP weekend that ran from Friday 27 March through to midnight on Sunday 29 March.
The Rakghouls are back, once again plaguing Alderaan. We confidently predict they'll be eradicated (again) by next Tuesday 7 April.
With the completion of the Choose Your Path promotion, all subscribers should receive on each character a lockbox containing four Advanced Black-Purple Striated Colour Crystals. Note that there is currently a bug which prevents them from being unlocked via Collections on other characters (for a nominal fee in Cartel Coins). However, you can unlock them in Collections for each character by inserting each Color Crystal into a weapon, after which you can create as many of each that you want.
Game Update 3.1.2 should be deployed on Tuesday 7 April. It includes a fix that will prevent now-defunct Planetary Commendations from being sent via in-game mail as part of lower-level mission rewards.
Game Update 3.2 is still on the PTS. We have the following updates from last week:
Read all about the intrepid Kai Zykken's "new line of sleek and unique vehicles" in Go Big, Go Small, Go Nowhere.
Star Wars: Battlefront will be shown at Star Wars Celebration on April 17, starting at 10:30am Pacific, which will include the debut of its official trailer.
There is another new Star Wars novel coming, this one called Lords of the Sith by Paul S. Kemp. It includes the following timeline of the new Star Wars canon:
4. Community
We recommend both the Russian-developed Discipline Calculator, and that on TOR Community.
For your phone, Kuze is using the SWTOR Talent Calc, available for iOS and Android.
Please consider becoming an Ootini Patron! Find out more at patreon.com/ootinicast.
5. Force Feedback
Kranitoko's video in which he opens a Hypercrate of Master's Shadow Packs is now available.
Congratulations to Kal for becoming a Galactic Legend!
You can see the swarm of what appear to be remotes firing continually at a spot on the ground that Chong spotted here and here.
GasGuy's post identifying the class-specific titles for completing the Shadow of Revan story can be found in this post on the official forums.
6. Outro
On the show this week were Chill (@BrandonLStarr, twitch.tv/chillswtor), Teo (@jasonetheridge), Brian (Reddit) and Kuze (@kuze_roh, YouTube).
Information about our guilds on The Harbinger, Ootini Knights (Republic) and Ootini Rage (Empire), can be found here.
You can email questions and comments about the show to ootinicast@gmail.com. Follow us on Twitter via @OotiniCast. Check out our website, ootinicast.com, which has links to our presence on Google+ and Facebook. You can subscribe to us on iTunes, and listen to us on Stitcher and Spreaker. We record the show live every Wednesday at 4:30pm Pacific, goto ootinicast.com/live to find out how to join in!