Podcast: Play in new window | Download
Subscribe: RSS
After covering what's new in Game Update 2.4.1, we discuss the various revelations from the Community Cantina held in New York on the weekend. Some wild speculation may be included.
1. Introduction
If you need to remove your security key from your account, you can utilise BioWare's self-serve option by clicking on the link indicated below:

Thanks to Adam Schumpert, Teo's Operative is ready to join the Green Lantern Corps, our future arena team!

2. Tip of the week
Congratulations to this week's winner, Timmeh!
Please send your tips to ootinicast@gmail.com by next Wednesday for a chance to win a Tawnfaun code, courtesy of BioWare, and an OotiniCast-provided Cartel Market pack from the latest shipment.
3. Holofeed
4. Community
Izaak recommends this spreadsheet for helping to choose your enhancements (in addition to our own Item Modifications page).
David (@Ri_kiri) pointed us towards the Suckafish guild's guides for hard mode Dread Fortress and Dread Palace.
Max (@MaxTheGrey) of the most excellent SWTOR Escape Pod Cast has created a calculator that will plan out your reputation gains to get you to Legend status as quickly as possible.
The Vy'aalators are looking for more raiders! They run on Monday evening (US time), starting at 5:30pm Pacific. If you're interested, please post in this thread on our forums.
5. Force Feedback
We discuss tweets from @ForceChuckle, @JediAio, @RPGbeatsRL and his droid @ODS_1, @Trooper_Noma, @grimrok (Grim), @bytorsnowdog (Snowy), @ArrTeaBee, @fnord3125 (Brian Peters), @JRO_Mosqueito (Mosq), @ben_b55, @JediKal, @Casmas_, @Manciferous, @HamSammich509, @BedouinBrennan, @ChazLobo and @FerrousTerran, emails from Bill and AwesomeSellars, and comments from RSKeogh96 and The Malgadar.
Our guildmate Mosq managed to target the mysterious "gm" NPC during a Huttball match!
@JediKal's suggested desert for those with a Jawa fetish:
@ChazLobo's unearthing of the original disks for X-Wing (and its B-Wing expansion), which probably belongs in a museum: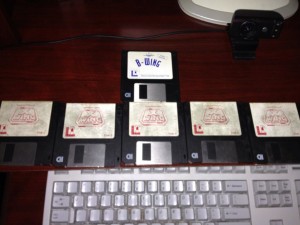 The screenshots from AwesomeSellars epic PvP battle on Oricon:
6. Sarlacc Digest
A Community Cantina was held in New York on Saturday. In attendance was JD (a.k.a. Gaddock Teeg) of the Unnamed SWTOR Podcast. He provides both the audio from the Q&A and his own detailed coverage of the event in a special report edition of his show. The contents of the thumb drive provided to all attendees has been published by Dulfy.
7. Outro
Thanks to Redna (@R3DN4) for joining us this week.
Information about our guilds on The Harbinger, Ootini Knights (Republic) and Ootini Rage (Empire), can be found here.
You can email questions and comments about the show to ootinicast@gmail.com. Follow us on Twitter via @OotiniCast. Check out our website, ootinicast.com, which has links to our presence on Google+ and Facebook. We are a proud member of the TOR Syndicate! You can subscribe to us on iTunes and Zune, and listen to us on Stitcher and Radio4Gamers.